2022 Longwood Arts and Crafts Vendor set up information
NOTE: ALL Traffic enters at ONE ENTRY POINT.
Enter at Church Ave and S. Millwee. All traffic flows in the same direction.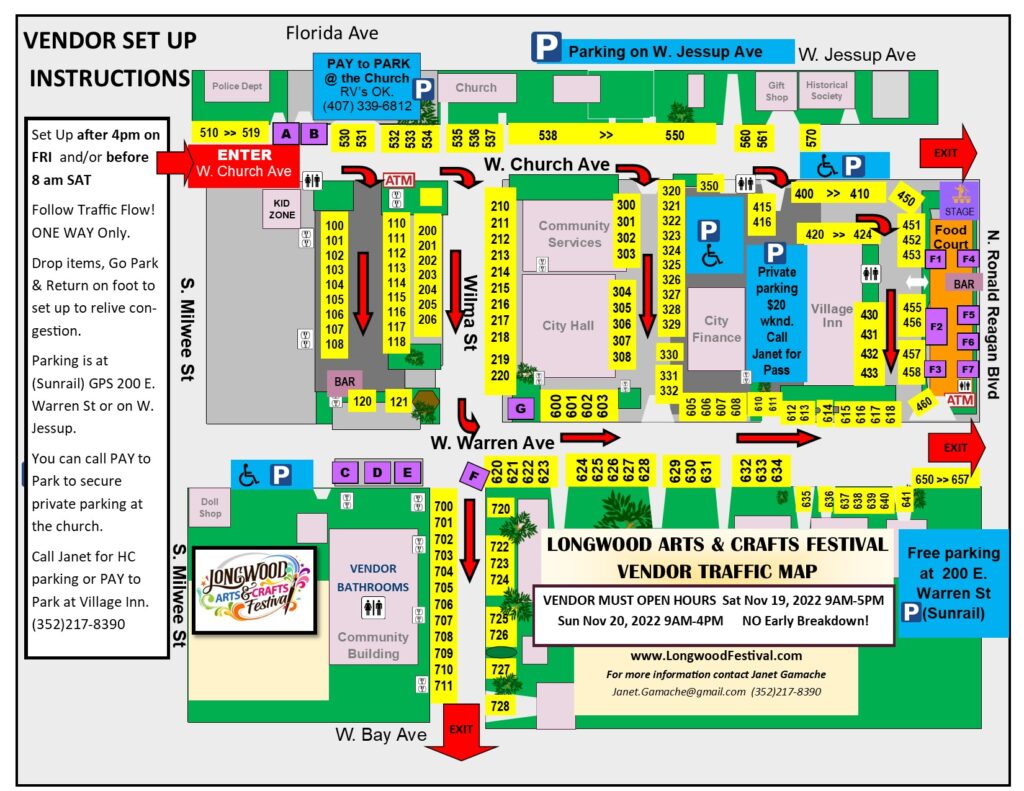 Here are some important points to know about your participation and SET UP.
FIND your Space # and Entry Point on your pass or the Exhibitor List.
PRINT the attached Vendor Traffic map to locate your booth space, note the traffic flow and find parking locations.
ENTER W. Church St at S. Milwee St at Church St) Use GPS: 250 W Church Ave, Longwood, FL 32750 
You may enter to drop your tent and product any time after 4 pm on Friday. Anyone can set up on Saturday morning. Please have your vehicle out of the event area by 8:15 am on Sat and Sun.
 FOLLOW the traffic pattern! Do not back up. If you miss your space, proceed to the exit and reenter through the Vendor entry point again. Do NOT go against the traffic flow. All traffic moves in the same direction. 
Be courteous and Unload all of your items, proceed to your parking area and return on foot to complete your setup. Stay to the right of the road when unloading so vehicles can pass. 
Your booth number is in the MIDDLE of your booth space. If you are not sure if you have correct placement, CALL ME before setting up or you will have to break down and move.  

Do NOT park at the hospital during the event. You can park on W. Jessup Ave and at SUNRAIL.

  Sunrail Parking is at GPS:  200 E. Warren St. Longwood, Fl 32750.

It is located at the corner of Myrtle St and E. Warren Ave (Cross over N. Ronald Reagan Blvd.)

Although it may seem challenging to navigate to Sunrail, it is actually closer to the event than the hospital parking. You can cross Ronald Reagan at W. Church Ave.  

You can also opt to PAY to park at Christ Episcopal Church on Church Ave (407)339-6812 or at the Village Inn (Call Janet 352-217-8390) First Come First Serve. HC parking is assigned.

 

If you purchased Electric for the event, bring a long (100 ft is suggested) cord and a multi outlet plug in case others are using the same outlet. 

Tents must be weighted to sustain 40 mph winds! Please bring concrete blocks or sandbags to secure your tent legs.
Although there is overnight security, you are encouraged to zip up your tent and cover or remove expensive items.
For your convenience, there will be a "Vendor Only" bathroom available during the event at the Longwood Community building at Wilma and Warren.
Lastly but very important!  Event hours are Saturday 9am-5pm and Sunday 9am-4pm. You MUST STAY OPEN until the event is over. If you are flagged for packing up early, you risk being rejected from participating at any of my future events!  
Don't forget to LIKE, Share and post your photos on the event FB page:
https://www.facebook.com/Longwood-Arts-and-Crafts-Festival-106137000989636
Don't hesitate to call me if you have any questions.  Janet Gamache (352)217-8390
| | | | |
| --- | --- | --- | --- |
| FIRST | LAST | SPACE | PARKING |
| Karen | Adams | 326 327 | Sunrail Parking Lot (Myrtle St & E Warren Ave)1 |
| Tammi | Adams | 205 | Sunrail Parking Lot (Myrtle St & E Warren Ave)2 |
| Laura | Adams | 540 | Sunrail Parking Lot (Myrtle St & E Warren Ave)3 |
| Jenny | Alejandro | D | Sunrail Parking Lot (Myrtle St & E Warren Ave)4 |
| Jennifer | Algorri | 709 | W Jessup Ave (curbside parking)12 |
| Amy | Andrew-Loo | 707 | W Jessup Ave (curbside parking)11 |
| Jeanne | Armbrust | 113 114 | Sunrail Parking Lot (Myrtle St & E Warren Ave)7 |
| Lauren | Ayuso | 544 | Sunrail Parking Lot (Myrtle St & E Warren Ave)8 |
| Krista | Balseiro | 727 | W Jessup Ave (curbside parking)1 |
| Cheryl | Banks | 720 | W Jessup Ave (curbside parking)2 |
| Kiki (aka Maria) | Bombard | 532 | Sunrail Parking Lot (Myrtle St & E Warren Ave)9 |
| June | Bonnigson | 705 | W Jessup Ave (curbside parking)3 |
| James | Boone | 618 | Sunrail Parking Lot (Myrtle St & E Warren Ave)10 |
| Daniel | Bopp | 533 | Sunrail Parking Lot (Myrtle St & E Warren Ave)11 |
| Jasmine | Bowen | 639 | Sunrail Parking Lot (Myrtle St & E Warren Ave)12 |
| Amy | Brake | 615 616 | Sunrail Parking Lot (Myrtle St & E Warren Ave)13 |
| Charles | Brosious | 410 | Sunrail Parking Lot (Myrtle St & E Warren Ave)14 |
| Melanie | Brown | 515 | Sunrail Parking Lot (Myrtle St & E Warren Ave)15 |
| Adam | Brown | 403 404 | Sunrail Parking Lot (Myrtle St & E Warren Ave)16 |
| Tracie | Brown | 213 | Sunrail Parking Lot (Myrtle St & E Warren Ave)5 |
| Christine | Brown | 710 711 | W Jessup Ave (curbside parking)4 |
| Paul | Bruno | 112 | Sunrail Parking Lot (Myrtle St & E Warren Ave)17 |
| Roxanne | Bryan | 617 | Sunrail Parking Lot (Myrtle St & E Warren Ave)18 |
| Scott | Burford | 613 | Sunrail Parking Lot (Myrtle St & E Warren Ave)19 |
| Jill | Byrne | 450 | Sunrail Parking Lot (Myrtle St & E Warren Ave)20 |
| Anna | Byrnes | F4 | Sunrail Parking Lot (Myrtle St & E Warren Ave)21 |
| Nataliia | Callahan | 622 | Sunrail Parking Lot (Myrtle St & E Warren Ave)22 |
| Rose | Casesi | 603 | Sunrail Parking Lot (Myrtle St & E Warren Ave)23 |
| Annette | Castaldo | 703 | W Jessup Ave (curbside parking)5 |
| Adriana | Castano | 400 | Sunrail Parking Lot (Myrtle St & E Warren Ave)24 |
| Sandra | Cazacopol | 653 | Sunrail Parking Lot (Myrtle St & E Warren Ave)25 |
| Mary | Chapman | 702 | Warren Ave / Handicap2 |
| Debbie | Cheslow | 421 | Sunrail Parking Lot (Myrtle St & E Warren Ave)26 |
| Victoria | Coker | 723 | W Jessup Ave (curbside parking)6 |
| Larry | Cook | 621 | Sunrail Parking Lot (Myrtle St & E Warren Ave)27 |
| Laurie | Copeland | 602 | Sunrail Parking Lot (Myrtle St & E Warren Ave)28 |
| Amanda | Crebs | 104 | Sunrail Parking Lot (Myrtle St & E Warren Ave)29 |
| Mark | Damohn | 201 | Sunrail Parking Lot (Myrtle St & E Warren Ave)30 |
| Sierrah | Davis | F1 | Sunrail Parking Lot (Myrtle St & E Warren Ave)31 |
| Charlotte | Digiacomo | 636 | Sunrail Parking Lot (Myrtle St & E Warren Ave)32 |
| Bradley | Dixon | B | Sunrail Parking Lot (Myrtle St & E Warren Ave)33 |
| Marlene | Dixon | 101 | Sunrail Parking Lot (Myrtle St & E Warren Ave)34 |
| Joseph | Donoughe | F | Sunrail Parking Lot (Myrtle St & E Warren Ave)35 |
| Tammy | Doroshewitz | 631 | Sunrail Parking Lot (Myrtle St & E Warren Ave)36 |
| Dave | Doroshow | 708 | W Jessup Ave (curbside parking)7 |
| Jack | Dowsett | 536 | Sunrail Parking Lot (Myrtle St & E Warren Ave)37 |
| Tony | Erickson | 541 | City Hall 4 |
| Dean | Ernst | 420 | Sunrail Parking Lot (Myrtle St & E Warren Ave)38 |
| Dan | Erskine | 108 | W Jessup Ave (curbside parking)8 |
| Bianca | Escobar | F3 | Sunrail Parking Lot (Myrtle St & E Warren Ave)39 |
| Melissa | Farwell | 200 | Sunrail Parking Lot (Myrtle St & E Warren Ave)40 |
| Leslie Jo | Feldman | 700 | W Jessup Ave (curbside parking)9 |
| Chrysti | Ferry | 637 638 | Sunrail Parking Lot (Myrtle St & E Warren Ave)41 |
| Michele | Fisher | 456 | Sunrail Parking Lot (Myrtle St & E Warren Ave)42 |
| Gary | Flesner | 545 | Sunrail Parking Lot (Myrtle St & E Warren Ave)43 |
| Gala | Fontao | 728 | W Jessup Ave (curbside parking)10 |
| Michael | Ford-Jones | 217 218 | Sunrail Parking Lot (Myrtle St & E Warren Ave)44 |
| Alyssa | Foxson | 406 | Sunrail Parking Lot (Myrtle St & E Warren Ave)45 |
| Virginia | Franceschi | 405 | Sunrail Parking Lot (Myrtle St & E Warren Ave)46 |
| Joshua | Gerstorff | 610 | Sunrail Parking Lot (Myrtle St & E Warren Ave)47 |
| Matthew | Gonzalez | 614 | Sunrail Parking Lot (Myrtle St & E Warren Ave)48 |
| Ashleigh | Greenwood | 206 | Sunrail Parking Lot (Myrtle St & E Warren Ave)49 |
| Abigail | Gustafson | 422 | Sunrail Parking Lot (Myrtle St & E Warren Ave)50 |
| Lois | Gusty | 214 | Sunrail Parking Lot (Myrtle St & E Warren Ave)51 |
| Timothy | Hall | 600 | Sunrail Parking Lot (Myrtle St & E Warren Ave)52 |
| Byron | Harris | 633 | Sunrail Parking Lot (Myrtle St & E Warren Ave)53 |
| John | Hemmen | 452 | Sunrail Parking Lot (Myrtle St & E Warren Ave)54 |
| Dave | Hemsath | 625 | Sunrail Parking Lot (Myrtle St & E Warren Ave)55 |
| Lyric | Hershey | 106 | Sunrail Parking Lot (Myrtle St & E Warren Ave)56 |
| Ally | Hisir | 118 | Sunrail Parking Lot (Myrtle St & E Warren Ave)57 |
| Monika | Hoerl | 624 | Sunrail Parking Lot (Myrtle St & E Warren Ave)58 |
| Melanie | Holtzman | 423 | Sunrail Parking Lot (Myrtle St & E Warren Ave)59 |
| Scott | Honour | 304 | Sunrail Parking Lot (Myrtle St & E Warren Ave)60 |
| Heidi | Husser | 107 | Sunrail Parking Lot (Myrtle St & E Warren Ave)61 |
| Evgueni | Iatchkov | 457 458 | Sunrail Parking Lot (Myrtle St & E Warren Ave)62 |
| Nathalia | Ibanez | 627 | Sunrail Parking Lot (Myrtle St & E Warren Ave)6 |
| Clifford | Jackson | 401 | Sunrail Parking Lot (Myrtle St & E Warren Ave)63 |
| Henry or Ann | Jalsa | 629 | Sunrail Parking Lot (Myrtle St & E Warren Ave)64 |
| Rudy | Javar | 328 | Sunrail Parking Lot (Myrtle St & E Warren Ave)65 |
| David | Johnson | 424 | Sunrail Parking Lot (Myrtle St & E Warren Ave)66 |
| Joshua | Johnson | 451 | Sunrail Parking Lot (Myrtle St & E Warren Ave)67 |
| Brad | Jones | 455 | Sunrail Parking Lot (Myrtle St & E Warren Ave)68 |
| Charlotte | JonesRoberts | 626 | Sunrail Parking Lot (Myrtle St & E Warren Ave)69 |
| James | Kaeding | 641 | Sunrail Parking Lot (Myrtle St & E Warren Ave)70 |
| Yun | Ke | 453 | Sunrail Parking Lot (Myrtle St & E Warren Ave)71 |
| Christina | Kersey | 606 | Sunrail Parking Lot (Myrtle St & E Warren Ave)72 |
| Cynthia | Kidwell | 204 | Sunrail Parking Lot (Myrtle St & E Warren Ave)73 |
| Trella | King | 542 | City Hall 1 |
| Nicholas | Kornbluh | 102 | Sunrail Parking Lot (Myrtle St & E Warren Ave)74 |
| Katy | Lagoni | 634 | Sunrail Parking Lot (Myrtle St & E Warren Ave)75 |
| Ruth | Lane | 630 | Sunrail Parking Lot (Myrtle St & E Warren Ave)76 |
| YRIA | LATIL | 539 | Sunrail Parking Lot (Myrtle St & E Warren Ave)77 |
| Gary | Lawrence | 302 | Sunrail Parking Lot (Myrtle St & E Warren Ave)78 |
| C.C. | Lee | 534 | City Hall 2 |
| Stephanie | Lemke | 605 | Sunrail Parking Lot (Myrtle St & E Warren Ave)79 |
| Rosemarie | Likens | 320 | Sunrail Parking Lot (Myrtle St & E Warren Ave)80 |
| Candee | Majors | 543 | Sunrail Parking Lot (Myrtle St & E Warren Ave)81 |
| Jennifer | Matwijow Nosal | 305 | Sunrail Parking Lot (Myrtle St & E Warren Ave)82 |
| Trish | McCory | 706 | W Jessup Ave (curbside parking)13 |
| Stuart | Mcphee | 538 | Sunrail Parking Lot (Myrtle St & E Warren Ave)83 |
| Stephanie | Mellor | 725 726 | W Jessup Ave (curbside parking)14 |
| Philip | Messer | 518 | Sunrail Parking Lot (Myrtle St & E Warren Ave)84 |
| Jessica | Moon | 402 | Sunrail Parking Lot (Myrtle St & E Warren Ave)85 |
| Ashley | Moore | 323 324 | Sunrail Parking Lot (Myrtle St & E Warren Ave)86 |
| Loi | Nguyen | 329 | Sunrail Parking Lot (Myrtle St & E Warren Ave)87 |
| Holly | Nicholas | 530 531 | Sunrail Parking Lot (Myrtle St & E Warren Ave)88 |
| Chare | Nogue | 121 | Sunrail Parking Lot (Myrtle St & E Warren Ave)89 |
| Courtney | Obrien | 632 | Sunrail Parking Lot (Myrtle St & E Warren Ave)90 |
| Georgia | Orser | 350 | Sunrail Parking Lot (Myrtle St & E Warren Ave)91 |
| David | Ortiz | 560 |   |
| Sandy | Palkovic | 407 408 | Sunrail Parking Lot (Myrtle St & E Warren Ave)92 |
| Michael | Palma |   |   |
| Tom | Parker | 704 | W Jessup Ave (curbside parking)15 |
| Xiubo | Pearce | 215 | Sunrail Parking Lot (Myrtle St & E Warren Ave)93 |
| Anthony | Pizzo | F2 | Sunrail Parking Lot (Myrtle St & E Warren Ave)94 |
| Amy | Plant | 623 | Sunrail Parking Lot (Myrtle St & E Warren Ave)95 |
| David | Porter | 220 | Sunrail Parking Lot (Myrtle St & E Warren Ave)96 |
| Renee | Powell | 701 | Warren Ave / Handicap1 |
| Nancy | Pye | 115 | Sunrail Parking Lot (Myrtle St & E Warren Ave)97 |
| Mary Ellen | Radloff | 210 | City Hall 3 |
| Judy | Ramsden | 306 | Sunrail Parking Lot (Myrtle St & E Warren Ave)98 |
| Dell | Richards | 219 | Sunrail Parking Lot (Myrtle St & E Warren Ave)99 |
| Brandi | Ricker | 612 | Sunrail Parking Lot (Myrtle St & E Warren Ave)100 |
| Lori | Riles | 211 | Sunrail Parking Lot (Myrtle St & E Warren Ave)101 |
| Cathy | Ritchey | 307 | Sunrail Parking Lot (Myrtle St & E Warren Ave)102 |
| Wesley | Roll | 308 | Sunrail Parking Lot (Myrtle St & E Warren Ave)103 |
| Jasmine | Roman | 652 | Sunrail Parking Lot (Myrtle St & E Warren Ave)104 |
| Sasha | Rosa | 516 517 | Sunrail Parking Lot (Myrtle St & E Warren Ave)105 |
| Saminia | Roundy | 105 | Sunrail Parking Lot (Myrtle St & E Warren Ave)106 |
| Donna | Ruby | 325 | City Hall 5 |
| Haidy | Santos | 519 | Sunrail Parking Lot (Myrtle St & E Warren Ave)107 |
| Traci | Schwemin | 321 | City Hall 6 |
| Kaitlyn | Selesky | 415 | Sunrail Parking Lot (Myrtle St & E Warren Ave)108 |
| Nicholas | Seyler | 635 | Sunrail Parking Lot (Myrtle St & E Warren Ave)109 |
| Nanci | Shaffer | 409 | Sunrail Parking Lot (Myrtle St & E Warren Ave)110 |
| Debra | Sherman | 332 | Sunrail Parking Lot (Myrtle St & E Warren Ave)111 |
| Nancy | Siegel | 537 | Sunrail Parking Lot (Myrtle St & E Warren Ave)112 |
| Virginia | Silberstein | 620 | Sunrail Parking Lot (Myrtle St & E Warren Ave)113 |
| Chelsea | Smith | 212 | Sunrail Parking Lot (Myrtle St & E Warren Ave)114 |
| Rebecca | Sorenson | 216 | Sunrail Parking Lot (Myrtle St & E Warren Ave)115 |
| Ricardo | Soriano | 549 | Sunrail Parking Lot (Myrtle St & E Warren Ave)116 |
| Arielle | Stankiewicz | 202 | W Jessup Ave (curbside parking)16 |
| T | Stephens | 535 | Sunrail Parking Lot (Myrtle St & E Warren Ave)117 |
| Thomas | Tanuredjo | 547 | Sunrail Parking Lot (Myrtle St & E Warren Ave)118 |
| Carolyn | Taylor | 548 | Sunrail Parking Lot (Myrtle St & E Warren Ave)119 |
| Robert | Thimm | 433 | Sunrail Parking Lot (Myrtle St & E Warren Ave)120 |
| Lora and Bob | Thomas | 430 431 | Sunrail Parking Lot (Myrtle St & E Warren Ave)121 |
| Patricia | Truitt | 300 301 | Sunrail Parking Lot (Myrtle St & E Warren Ave)122 |
| Michael | Tucker | 416 | Sunrail Parking Lot (Myrtle St & E Warren Ave)123 |
| Simon | Van zetten | E | W Jessup Ave (curbside parking)17 |
| Jennifer | Vaudo | 546 | Sunrail Parking Lot (Myrtle St & E Warren Ave)124 |
| Bernadette | Vehec | 724 | W Jessup Ave (curbside parking)18 |
| Miriam | Vigoa | 103 | Sunrail Parking Lot (Myrtle St & E Warren Ave)125 |
| Graciano | Viruet | 601 | Sunrail Parking Lot (Myrtle St & E Warren Ave)126 |
| Donna | Voelker | 110 | W Jessup Ave (curbside parking)19 |
| Fran | Walsh | 651 | Sunrail Parking Lot (Myrtle St & E Warren Ave)127 |
| Brooke | Watanabe | 117 | Sunrail Parking Lot (Myrtle St & E Warren Ave)128 |
| Ken | Webley | F5 | Sunrail Parking Lot (Myrtle St & E Warren Ave)129 |
| Berenice | Weeks | 640 | Sunrail Parking Lot (Myrtle St & E Warren Ave)130 |
| Lori | Wilkinson | 550 | City Hall 7 |
| Joy | Willis | 116 | Sunrail Parking Lot (Myrtle St & E Warren Ave)130 |
| Lori | Wisniewski | 203 | W Jessup Ave (curbside parking)20 |
| Roni Wood | Wood | 514 | Sunrail Parking Lot (Myrtle St & E Warren Ave)130 |
| Karen | Youngsma | 100 | Sunrail Parking Lot (Myrtle St & E Warren Ave)130 |