2023 Longwood Arts and Crafts Vendor set up information
NOTE: ALL Traffic enters at ONE ENTRY POINT.
Enter at Church Ave and S. Millwee. All traffic flows in the same direction.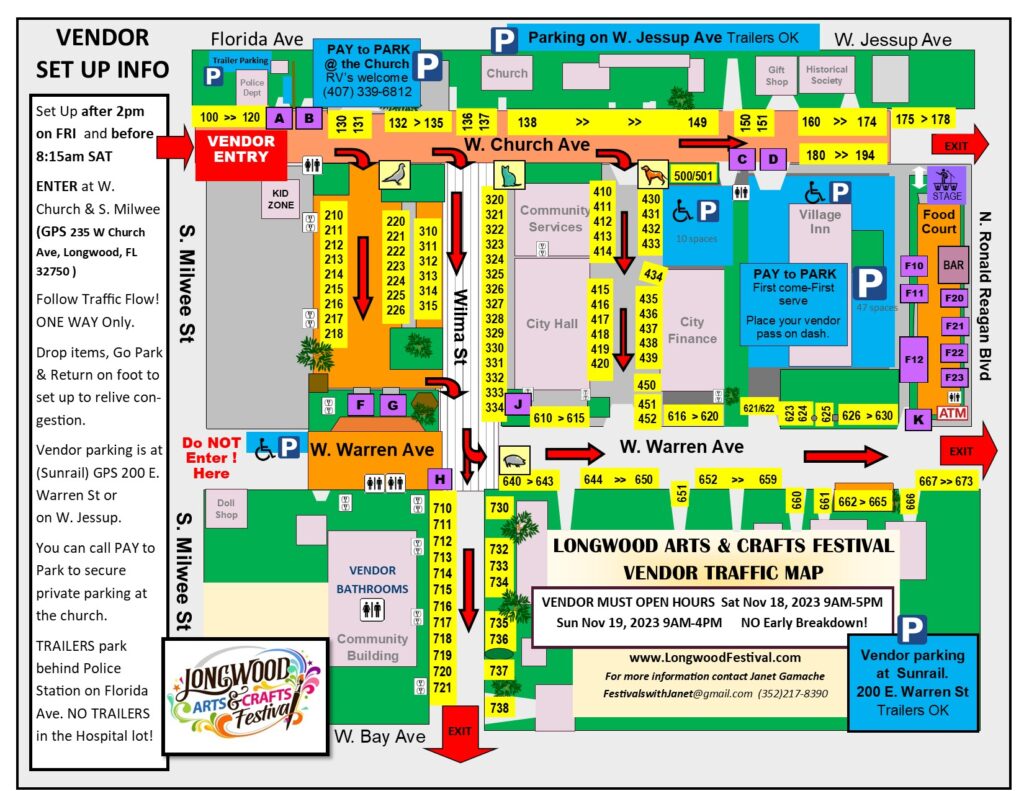 Here are some important points to know about your participation and SET UP.
Set up FRI after 2 pm and/or SAT before 8:15 am. Vehicles must be out of the event area by 8:30 am on Sat and Sun.
ALL VENDORS ENTER at S. Milwee & Church St. Use GPS: 250 W Church Ave, Longwood, FL 32750 
FOLLOW the traffic pattern to your animal entry point. Do NOT go against the traffic flow.
Be courteous . Unload, Park, Return, and Set Up. Stay to the right of the road when unloading so vehicles can pass. 
Your booth number is in the MIDDLE of your booth space. CALL ME before setting up if you are unsure.
Tents must be weighted to sustain 40 mph winds! Please bring concrete blocks or sandbags to secure your tent legs.
If you purchased Electric for the event, bring a long (100 ft is suggested) cord and a multi outlet plug in case others are using the same outlet. 
There is overnight security but zip up your tent & remove expensive items
A VENDOR ONLY BATHROOM is available in the community building at Wilma & Warren.

PARKING: Free Vendor parking is on Jessup Ave and at Sunrail (200 E. Warren Ave. Cross over Ronald Reagan Blvd)

TRAILERS not assigned should park on Florida Ave behind the Police Dept and on Jessup Ave. NO Trailer parking at the hospital!

You can also opt to PAY to park at Christ Episcopal Church on Church Ave (407)339-6812 or at the Village Inn (Call Janet 352-217-8390) First Come First Serve.

If you need HC Parking, contact me for a special Parking Pass

Any questions? [email protected] or (352)217-8390
Lastly but very important!  Event hours are Saturday 9am-5pm and Sunday 9am-4pm. You MUST STAY OPEN until the event is over. If you are flagged for packing up early, you risk being rejected from participating at any of my future events!  
Don't forget to LIKE, Share and post your photos on the event FB page:
https://www.facebook.com/Longwood-Arts-and-Crafts-Festival-106137000989636
Don't hesitate to call me if you have any questions.  Janet Gamache (352)217-8390
Note: Passes will be emailed shortly. If you saw the vendor list previous to Nov 7- It has changed.

2023 Longwood Exhibitors 
 
LAST
FIRST
SPACE
ENTRY
A Pata
Michael 
117
church
Adams
Laura
145
church
Adams
Karen
654
pig
Alejandro
Jenny
671
pig
Algorri
Jennifer
719
cat
Allen
Hannah
650
pig
Amore
Angela
419
dog
Andrew-Loo
Amy
718
cat
Aponte
Kathy
670
pig
Armbrust
Jeanne
170
church
Armbrust
Jeanne
171
church
Arreaza
Rafael
D
church
Ayuso
Lauren
438
dog
Baker
Kathy
C
church
Balseiro
Krista
169
church
Banks
Cheryl
730
cat
Barbour
William Gissell
414
dog
Barksdale
Rebecca
661
pig
Bauman
Phil
641
pig
Biglin
Brad
176
church
Bodine
Nancy
183
church
Bombard
Kiki (aka Maria)
132
church
Bonnigson
June
716
cat
Boone
James 
630
pig
Bowen
Jasmine
172
church
Bowers
Emy
182
church
Brake
Amy
626
pig
Brake
Amy
627
pig
Brasells
Tracy
190
church
Bridgman
Debbra
415
dog
Britt
Armahn
657
pig
Brosious
Charles
220
bird
Brower
Michelle
430
dog
Brown
Melanie
115
church
Brown
Adam
165
church
Brown
Tracie
315
cat
Brown
Christine
720
cat
Brown
Christine
721
cat
Burford
Scott
660
pig
Burks
Robert 
611
pig
Byrne
Jill
320
cat
Callahan
Natalia
647
pig
Camacho Guzman
Kevin
214
bird
Campos
Paula
655
pig
Casesi
Rose
452
dog
Castaldo
Annette
713
cat
Castano
Adriana
738
cat
Castillo
Merquiades
673
pig
Chapman
Mary
712
cat
Cheslow
Deb
162
church
Cheveres
Arleen
222
bird
Chiodi
Rebecca
223
bird
Cobb
Kyndle
116
church
Coburn
Ty
420
dog
Cohen
Steven
640
pig
Coltharp
Justin
667
pig
Conner
Kate
332
cat
Cracker
Cathy
F
bird
Culberson
Karen
210
bird
Dabrowski
Michael 
418
dog
Daza
Alyssa
F10
pig
Delgado
Amarylis
F23
pig
Dixon
Darnell
A
church
Donoughe
Joseph
H
cat
Doroshow
Dave
737
cat
Dundore
Yvonne
216
bird
Erickson
Tony
134
church
Erskine
Dan
217
bird
Erskine
Dan
218
bird
Erving
Brandon
669
pig
Estrada
Laura
614
pig
Estrada
Laura
615
pig
Estrella
Angelica
644
pig
Feldman
Leslie jo
710
cat
Fernandez
Alex
610
pig
Ferrell
Justin
G
bird
Ferry
Chrysti
623
pig
Ferry
Chrysti
624
pig
Fisher
Michelle
189
church
Flesner
Gary
142
church
Ford-Jones
Scotty
329
cat
Ford-Jones
Scotty
330
cat
Fox
Erin
648
pig
Franceschi
Virginia
164
church
Fusco
Amy
193
church
Gasper
Natalie
733
cat
Gentile
Tommy
439
dog
Harris
Jack
224
bird
Harris
Trey
310
cat
Harris
Byron
612
pig
Hemmen
John
163
church
Hershey
Lyric
215
bird
Hill
Nancy 
212
bird
Hill
Nancy 
213
bird
Hinman
Bobbie
185
church
Hoerl
Monika
645
pig
Holtzman
Melanie
314
cat
Holzman
Jeannine
135
church
Iatchkov
Evgueni
150
church
Iatchkov
Evgueni
151
church
James
Chris
643
pig
Javar
Rudy
656
pig
Johnson
Kathleen
160
church
Jones
Yvi
322
cat
Jones
Brad
K
pig
Jordan
Jennifer
417
dog
Ke
Yun
174
church
Kersey
Christina
187
church
Kolm
Thor
658
pig
Kramer
Chuck
325
cat
Lake
Kate
327
cat
Lane
Ruth
646
pig
Larson
Laurie
664
pig
Larson
Laurie
665
pig
Latil
Yria
144
church
Lawrence
Gary
412
dog
Leising
Alan
333
cat
Lemke
Stephanie
616
pig
Leon
Jeff
211
bird
Lewis
Joe
324
cat
Liddle
Dan
186
church
Louis
Yvan
178
church
Martin
Isaiah
413
dog
Matwijow Nosal
Jennifer
437
dog
McCory
Trish
717
cat
McDonald
Dan
F20
pig
Mcknight
Isabella
119
church
Mellor
Stephanie
735
cat
Mellor
Stephanie
736
cat
Miller
Leonard 
625
pig
Moeggenberg
Judy
136
church
Moeggenberg
Judy
137
church
Mummert
Chelsea
451
dog
Myers
Jamie
194
church
Navarro
Martin
668
pig
Nicholas
Holly
130
church
Nicholas
Holly
131
church
Nogue
Chare
B
church
o
o
114
church
o
o
139
church
o
o
431
dog
o
o
450
dog
o
o
628
pig
o
o
629
pig
o
o
666
pig
o
o
732
cat
o
o
734
cat
Parr
Ashley
140
church
Petty
Knielle
161
church
Pigue
Danielle
662
pig
Pigue
Danielle
663
pig
Pittelman
Emma
173
church
Pitts
Evelyn
225
bird
Pizzini
Gerri
410
dog
Pizzini
Gerri
411
dog
Pizzo
Anthony
F12
pig
Powell
Renee
711
cat
Providemce
Paris
659
pig
Providence
Paris
617
pig
Pye
Nancy
226
bird
Radloff
Mary Ellen
435
dog
Ramsden
Judy
416
dog
Reynolds
Pam
175
church
Richards
Dell
177
church
Riles
Lori
321
cat
Ritchey
Cathy
180
church
Rosa
Sasha
652
pig
Rosa
Sasha
653
pig
Ruby
Donna
184
church
Salas
Tracy
F11
pig
Schiff
Mandi
J
pig
Schmidt
Alison Russ 
148
church
Schmidt
Alison Russ 
149
church
Schultz
Andrea
432
dog
Schultz
Andrea
433
dog
Schuman
Lori
143
church
Schwemin
Traci
434
dog
Selensky
Kaitlyn
147
church
Selig
Sam
181
church
Shaffer
Nanci
188
church
Shearer
Zachary
120
church
Sherman
Debra
500
church
Siegel
Nancy
138
church
Sollecito
Greg
191
church
Stack
Jennifer
146
church
Stankiewicz
Arielle
312
cat
Steib
Season
141
church
Stephens
T
133
church
Stephens
Juliet
618
pig
Strasinger
Tarri
436
dog
Strepay
Julie
192
church
Sutphin
Dee
613
pig
Teasley
Sarah
221
bird
Thimm
Robert
620
pig
Tolbert
Kourtney
311
cat
Vaudo
Jennifer
642
pig
Vellucci
Deanna
649
pig
Wallace
Catherine 
619
pig
Walls
Kristen
714
cat
Walls
Kristen
715
cat
Wang
Jade
118
church
Warren 
Stacy
331
cat
Wilkinson
Paul
166
church
Wisniewski
Lori
313
cat
Wood
Cindy
326
cat
Zitrick
Krista
323
cat