Longwood Arts & Crafts Festival FAQs
The event runs Saturday November 19 9am-5pm & Sunday November 20, 2022 9am-4pm, 2020
Where is the Festival held?
The event is held on the streets in the historic district of Longwood, Florida. Use GPS 175 W. Warren Ave, Longwood, FL 32750
There is Free parking at Orlando Health South Seminole Hospital 555 W SR 434 and at the SunRail parking lot at 149 E. Church Ave. Longwood, FL 32750
Is there an Entrance Fee?
There is no fee to attend the event.
What else will there be besides Artist & Crafter booths?
There will be a FREE Kid zone,  festival food vendors, beer, wine and cocktails, and a line up of entertainment on both Saturday and Sunday.
Is the event HC accessible?
Yes there is HC parking available in Reiter Park 331 W. Warren Ave Longwood FL and the event is fully accessible.
How many exhibitors will be set up?
There will be more than 200 artists & Crafters. 95% will be original artists. Sponsors and a limited number of retail businesses pay a higher booth fee to participate. Their fees help offset costs and keep the event free to the public.
Well behaved pets are allowed.
2022 MAP and EXHIBITOR LIST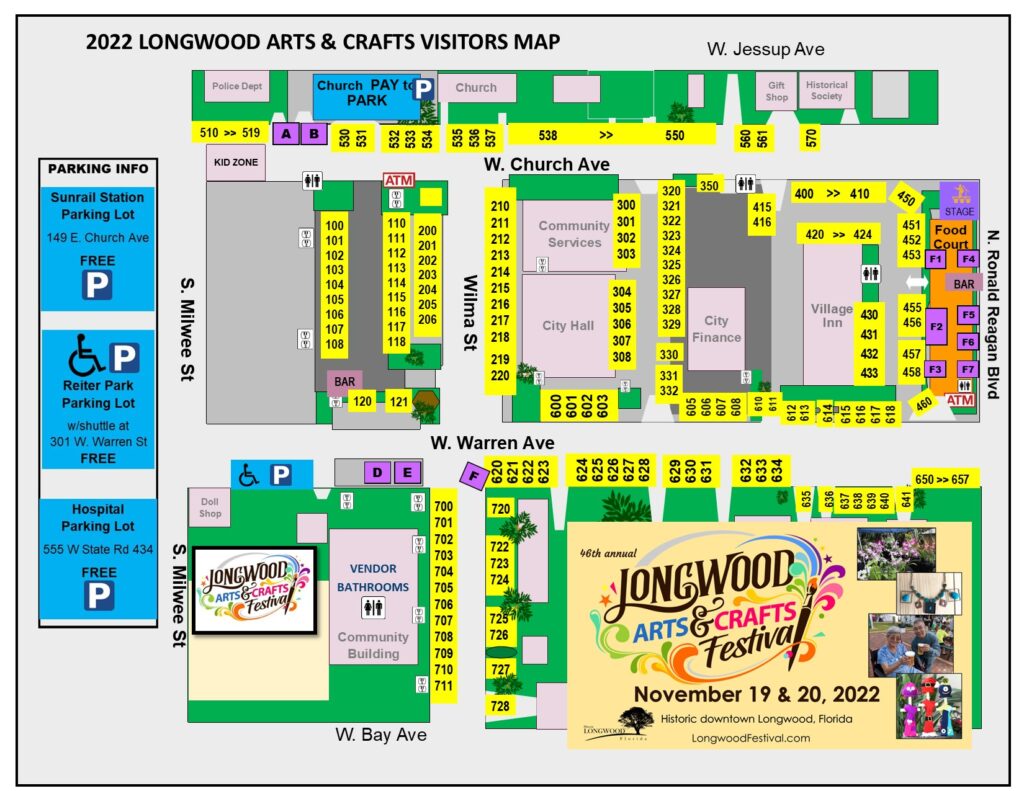 | | | | |
| --- | --- | --- | --- |
| SPACE | DESCRIPTION | FIRST | LAST |
| 100 | Wreaths | Karen | Youngsma |
| 101 | Dolls, Toys | Marlene | Dixon |
|   |   |   |   |
| 102 | Home Decor-Mixed Crafts | Nicholas | Kornbluh |
|   |   |   |   |
| 103 | Food Craft-Olive oil | Miriam | Vigoa |
|   |   |   |   |
| 104 | Bows | Amanda | Crebs |
|   |   |   |   |
| 105 | Jewelry | Saminia | Roundy |
|   |   |   |   |
| 106 | Food Craft-Baked goods | Lyric | Hershey |
|   |   |   |   |
| 107 | Ceramic, Clay, Pottery | Heidi | Husser |
|   |   |   |   |
| 108 | Wood work | Dan | Erskine |
|   |   |   |   |
| 110 | Jewelry | Donna | Voelker |
|   |   |   |   |
| 112 | Paint , Draw | Paul | Bruno |
|   |   |   |   |
| 113 114 | Sewing | Jeanne | Armbrust |
| 115 | Home Decor-Mixed Crafts | Nancy | Pye |
|   |   |   |   |
| 116 | Bath/Body  | joy | willis |
|   |   |   |   |
| 117 | Jewelry | Brooke | Watanabe |
|   |   |   |   |
| 118 | Jewelry | Ally | Hisir |
|   |   |   |   |
| 121 | Lemonade | Chare | Nogue |
|   |   |   |   |
| 200 | Home Decor-Mixed Crafts | Melissa | Farwell |
|   |   |   |   |
| 201 | Author | Mark | Damohn |
|   |   |   |   |
| 202 | Fascinators | Arielle | Stankiewicz |
|   |   |   |   |
| 203 | Jewelry | Lori | Wisniewski |
|   |   |   |   |
| 204 | Jewelry | Cynthia | Kidwell |
|   |   |   |   |
| 205 | Wood work | Tammi | Adams |
|   |   |   |   |
| 206 | SPONSOR Home water solutions | Ashleigh | Greenwood |
|   |   |   |   |
| 210 | Glass | Mary Ellen | Radloff |
|   |   |   |   |
| 211 | Home Decor-Mixed Crafts | Lori | Riles |
|   |   |   |   |
| 212 | Paint , Draw, Digital, Transfer | Chelsea | Smith |
|   |   |   |   |
| 213 | Mixed Media | Tracie | Brown |
|   |   |   |   |
| 214 | Wreaths | Lois | Gusty |
|   |   |   |   |
| 215 | Ceramic, Clay, Pottery | Xiubo | Pearce |
|   |   |   |   |
| 216 | SPONSOR Renewal | Rebecca | Sorenson |
|   |   |   |   |
| 217 218 | SPONSOR CF Skylights | Michael | Ford-Jones |
| 219 | SPONSOR FL Blue | Dell | Richards |
|   |   |   |   |
| 220 | SPONSOR Vacation | david | porter |
|   |   |   |   |
| 300 301 | Mixed Media | Patricia | Truitt |
| 302 | Bath/Body soap, lotion, oil | Gary | Lawrence |
|   |   |   |   |
| 304 | Wood work | Scott | Honour |
|   |   |   |   |
| 305 | Paper Craft | Jennifer | Matwijow Nosal |
|   |   |   |   |
| 306 | Sewing | Judy | Ramsden |
|   |   |   |   |
| 307 | Home Decor-Mixed Crafts | Cathy | Ritchey |
|   |   |   |   |
| 308 | Jewelry | Wesley | Roll |
|   |   |   |   |
| 320 | Jewelry | Rosemarie | Likens |
|   |   |   |   |
| 321 | Food Craft-Nuts | Traci | Schwemin |
|   |   |   |   |
| 323 324 | Food Craft-Dips | Ashley | Moore |
| 325 | Pet – Sewing, treats | Donna | Ruby |
|   |   |   |   |
| 326 327 | Resin Art | Karen | Adams |
| 328 | Food Craft-Sauces | Rudy | Javar |
|   |   |   |   |
| 329 | Candles | Loi | Nguyen |
|   |   |   |   |
| 332 | Mixed Media | Debra | Sherman |
|   |   |   |   |
| 350 | Plants, Bromeliads | Georgia | Orser |
|   |   |   |   |
| 400 | Home Decor-Mixed Crafts | Adriana | Castano |
|   |   |   |   |
| 401 | Wood work | Clifford | Jackson |
|   |   |   |   |
| 402 | Food Craft | Jessica | Moon |
|   |   |   |   |
| 403 404 | T-shirts Tye Die | Adam | Brown |
| 405 | Ceramic, Clay, Pottery | Virginia | Franceschi |
| 406 | Fiber Art | Alyssa | Foxson |
|   |   |   |   |
| 407 408 | Lantern Décor | Sandy | Palkovic |
| 409 | Sewing | Nanci | Shaffer |
|   |   |   |   |
| 410 | Jewelry | Charles | Brosious |
|   |   |   |   |
| 415 | Plants Garden | Kaitlyn | Selesky |
|   |   |   |   |
| 416 | Author, Books, music | Michael | Tucker |
|   |   |   |   |
| 420 | Food Craft-Essential Candy | Dean | Ernst |
|   |   |   |   |
| 421 | Pet – Sewing, treats | Debbie | Cheslow |
|   |   |   |   |
| 422 | Paint , Draw, Digital, Transfer | Abigail | Gustafson |
|   |   |   |   |
| 423 | Ceramic, Clay, Pottery | Melanie | Holtzman |
|   |   |   |   |
| 424 | SPONSOR Vacation | David | Johnson |
|   |   |   |   |
| 430 431 | Ceramic, Clay, Pottery | Lora and Bob | Thomas |
| 433 | Paint , Draw, Digital, Transfer | Robert | Thimm |
|   |   |   |   |
| 450 | SPONSOR Pet Parc | Jill | Byrne |
|   |   |   |   |
| 451 | Home Decor-Mixed Crafts | Joshua | Johnson |
|   |   |   |   |
| 452 | Home Decor-Mixed Crafts | John | Hemmen |
|   |   |   |   |
| 453 | Leather | Yun | Ke |
|   |   |   |   |
| 455 | Mixed Media | Brad | Jones |
|   |   |   |   |
| 456 | Home Decor-Mixed Crafts | Michele | Fisher |
|   |   |   |   |
| 457 458 | Wood work | Evgueni | Iatchkov |
| 514 | Bike Safety | Roni Wood | Wood |
|   |   |   |   |
| 515 | Non-Profit/Charity | Melanie | Brown |
|   |   |   |   |
| 516 517 | Mixed Crafts | Sasha | Rosa |
| 518 | Food Craft-Fudge | Philip | Messer |
|   |   |   |   |
| 519 | Jewelry | Haidy | Santos |
|   |   |   |   |
| 530 531 | Ornaments | Holly | Nicholas |
| 532 | Shell Art | Kiki (aka Maria) | Bombard |
|   |   |   |   |
| 533 | Sewing | Daniel | Bopp |
|   |   |   |   |
| 534 | Ceramic, Clay, Pottery | C.C. | Lee |
|   |   |   |   |
| 535 | Food Craft-Pound Cake | T | Stephens |
|   |   |   |   |
| 536 | Wood work | Jack | Dowsett |
|   |   |   |   |
| 537 | Jewelry | Nancy | Siegel |
|   |   |   |   |
| 538 | Metal | Stuart | Mcphee |
|   |   |   |   |
| 539 | Jewelry | Yria | Latil |
|   |   |   |   |
| 540 | Mixed Media | Laura | Adams |
|   |   |   |   |
| 541 | Wood work | Tony | Erickson |
|   |   |   |   |
| 542 | Food Craft-Spices | Trella | King |
|   |   |   |   |
| 543 | Food Craft-Pickles | Candee | Majors |
|   |   |   |   |
| 544 | Jewelry | Lauren | Ayuso |
|   |   |   |   |
| 545 | Wood work | Gary | Flesner |
|   |   |   |   |
| 546 | Paint , Draw, Digital, Transfer | Jennifer | Vaudo |
|   |   |   |   |
| 547 | Wood work | Thomas | Tanuredjo |
|   |   |   |   |
| 548 | Leather | Carolyn | Taylor |
|   |   |   |   |
| 549 | Butterfly Art | Ricardo | Soriano |
|   |   |   |   |
| 550 | Home Decor-Mixed Crafts | Lori | Wilkinson |
|   |   |   |   |
| 600 | Photography | Timothy | Hall |
|   |   |   |   |
| 601 | Jewelry | Graciano | Viruet |
|   |   |   |   |
| 602 | Jewelry | Laurie | Copeland |
|   |   |   |   |
| 603 | Paint , Draw, Digital, Transfer | Rose | Casesi |
|   |   |   |   |
| 605 | Home Decor-Mixed Crafts | Stephanie | Lemke |
|   |   |   |   |
| 606 | Mixed Crafts | Christina | Kersey |
|   |   |   |   |
| 610 | Wood work | Joshua | Gerstorff |
|   |   |   |   |
| 612 | Wood work | Brandi | Ricker |
|   |   |   |   |
| 613 | Plants, Plumerias | Scott | Burford |
|   |   |   |   |
| 614 | Paint , Draw, Digital, Transfer | Matthew | Gonzalez |
|   |   |   |   |
| 615 616 | Home Decor-Mixed Crafts | Amy | Brake |
| 617 | Mixed Crafts | Roxanne | Bryan |
|   |   |   |   |
| 618 | Wood work | James | Boone |
|   |   |   |   |
| 620 | Sculpture | Virginia | Silberstein |
|   |   |   |   |
| 621 | Fiber Art | Larry | Cook |
|   |   |   |   |
| 622 | Paint , Draw, Digital, Transfer | Nataliia | Callahan |
|   |   |   |   |
| 623 | Home Decor-Mixed Crafts | Amy | Plant |
|   |   |   |   |
| 624 | Paint , Draw, Digital, Transfer | Monika | Hoerl |
|   |   |   |   |
| 625 | Home Decor-Mixed Crafts | Dave | Hemsath |
|   |   |   |   |
| 626 | Paint , Draw, Digital, Transfer | Charlotte | JonesRoberts |
|   |   |   |   |
| 627 | Sculpture | Nathalia | Ibanez |
| 629 | Jewelry | Henry or Ann | Jalsa |
|   |   |   |   |
| 630 | Jewelry | Ruth | Lane |
|   |   |   |   |
| 631 | Paper Craft | Tammy | Doroshewitz |
|   |   |   |   |
| 632 | Mixed Media | Courtney | Obrien |
|   |   |   |   |
| 633 | Paint , Draw, Digital, Transfer | Byron | Harris |
|   |   |   |   |
| 634 | Mixed Media | Katy | Lagoni |
|   |   |   |   |
| 635 | Paint , Draw, Digital, Transfer | nicholas | seyler |
|   |   |   |   |
| 636 | Metal | charlotte | digiacomo |
|   |   |   |   |
| 637 638 | Paint , Draw, Digital, Transfer | Chrysti | Ferry |
| 639 | Mixed Crafts | Jasmine | Bowen |
|   |   |   |   |
| 640 | Jewelry | Berenice | Weeks |
|   |   |   |   |
| 641 | Home Decor-Mixed Crafts | James | Kaeding |
|   |   |   |   |
| 652 | Food Craft-Baked goods | Jasmine | Roman |
|   |   |   |   |
| 653 | Ice Cream | Sandra | Cazacopol |
|   |   |   |   |
| 700 | Mixed Media | Leslie Jo | Feldman |
|   |   |   |   |
| 701 | Mixed Media | Renee | Powell |
|   |   |   |   |
| 702 | Home Decor-Mixed Crafts | Mary | Chapman |
|   |   |   |   |
| 703 | Sewing | Annette | Castaldo |
|   |   |   |   |
| 704 | Wood work Bow Ties | Tom | Parker |
|   |   |   |   |
| 705 | Polymer Clay | June | Bonnigson |
|   |   |   |   |
| 706 | Sewing | Trish | McCory |
|   |   |   |   |
| 707 | Home Decor-Mixed Crafts | Amy | Andrew-Loo |
|   |   |   |   |
| 708 | Food Craft-Dry Rubs | Dave | Doroshow |
|   |   |   |   |
| 709 | Glass | Jennifer | Algorri |
|   |   |   |   |
| 710 711 | Mixed Media | Christine | Brown |
| 720 | Food Craft-Jams Jelly | Cheryl | Banks |
|   |   |   |   |
| 723 | Candles | Victoria | Coker |
|   |   |   |   |
| 724 | Sewing | Bernadette | Vehec |
|   |   |   |   |
| 725 726 | Jewelry | Stephanie | Mellor |
| 727 | Reel Skinz | Krista | Balseiro |
|   |   |   |   |
| 728 | Bath/Body soap, lotion, oil | Gala | Fontao |
|   |   |   |   |
| B | Food Sno Cones | Bradley | Dixon |
|   |   |   |   |
| D | Food-Arepas | Jenny | Alejandro |
|   |   |   |   |
| E | Food- Juice | Simon | Van zetten |
|   |   |   |   |
| F | Hamster Wheel sno cones | Joseph | Donoughe |
|   |   |   |   |
| F1 | Paint , Draw, Digital, Transfer | Sierrah | Davis |
|   |   |   |   |
| F2 | Food- Americana | Anthony | Pizzo |
|   |   |   |   |
| F3 | SPONSOR Bath Fitter | Bianca | Escobar |
|   |   |   |   |
| F4 | Food Craft-Ukrainian | Anna | Byrnes |
|   |   |   |   |
| F5 | Food Craft-BBQ | Ken | Webley |
|   |   |   |   |
| F6 | Food Craft-Bread | Fran | Walsh |
|   |   |   |   |
| F7 | Food- Juice | David | Ortiz |