Longwood Pirate Days Festival FAQs
When is the 2024 the Festival ?
The event is held on the last weekend in FEBRUARY.
The 2024 Longwood Pirate Days Festival is Saturday February 24 10am-6pm and Sunday February 25 10 am-4pm
Where is the Festival held?
The event is held in Reiter Park located at 311 W Warren Ave, Longwood, FL 32750
There is Free parking at Orlando Health South Seminole Hospital 555 W SR 434 and at the SunRail parking lot at 149 E. Church Ave. Longwood, FL 32750
Is there an Entrance Fee?
There is no fee to attend the event.
Do I need to buy tickets for food?
You will pay food vendors directly with cash or credit card. Cash is recommended to keep lines moving.
Sorry. Dogs are not allowed in Reiter Park.
What else is there besides food?
There will be lots of vendors selling a wide variety of items plus arts and crafts, a FREE Kid zone with bounce houses, a rock wall and even a SHARK Ride! At the back of the park you will find the authentic pirate encampment to see how pirates might have lived 100 years ago. You can also hear great music and watch live aerial entertainment all weekend with lots of room to spread out in Reiter Park.
What can the kids do and what will it cost?
The event will feature an all free kid zone that will include fun things to do like Bounce houses,  a mechanical Shark Ride and more. There will also be a pirate ship and character actors. Tips are welcome.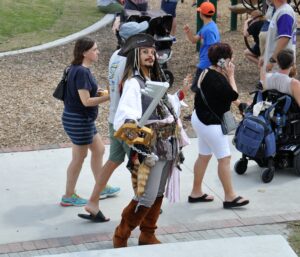 2024 Stage Entertainment line up
2024 Pirate Days Vendors TBD