Longwood Pirate Seafood Festival FAQs
Where is the Festival held?
The event is held in Reiter Park located at 311 W Warren Ave, Longwood, FL 32750
There is Free parking at Orlando Health South Seminole Hospital 555 W SR 434 and at the SunRail parking lot at 149 E. Church Ave. Longwood, FL 32750
Is there an Entrance Fee?
There is no fee to attend the event.
Do I need to buy tickets for food?
You will pay food vendors directly with cash or credit card. Cash is recommended to keep lines moving.
Sorry. Dogs are not allowed in Reiter Park.
What else is there besides food?
Due to social distancing standards, we will not feature a kid zone and pirate ship this year but we WILL have great music all day with lots of room to spread out in Reiter Park.
What can the kids do and what will it cost?
The event will feature an all free kid zone that will include Bounce houses, a bungee jumper, rock wall, a mechanical Shark Ride and more. There will also be a pirate ship and character actors. Tips are welcome.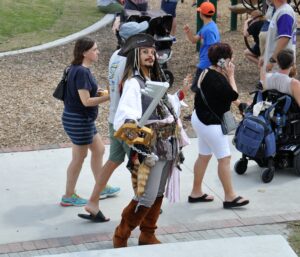 What if I don't like seafood?
No worries. there will be plenty of food for landlubbers too!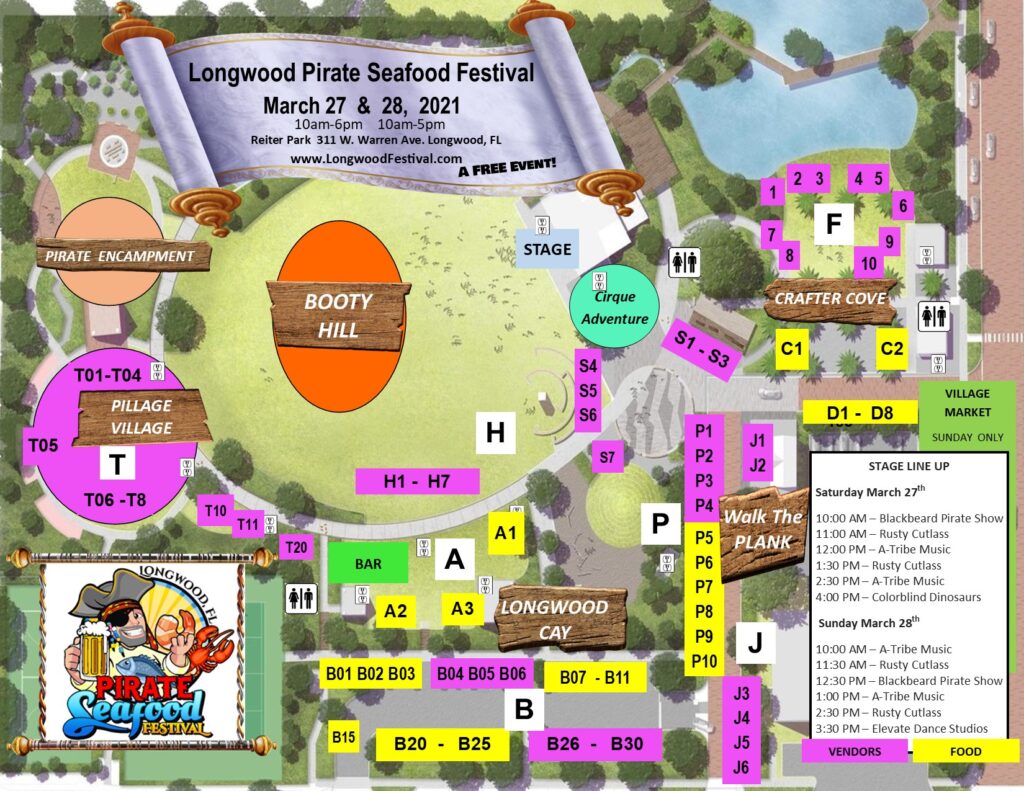 2021 VENDORS
SPACE CATEGORY
A1 Mixed Seafood
A3 Henry's Kitchen
B01,2,3 Congo Bongos
B04 Honey
B05 Cui Ceramics
B06 Reel Skinz
B07,8 Bells Frog legs, Gator
B09,10,11 Americana
B20,21,22 Halls Mixed Seafood
B24,25 Roasted Corn, sausages
B26 Pacific Soul
B27 Tlcs 3d xam canvas art
B28 Ocean Nirvana
B29 Bling
B30 American Andes gifts
Booty Hill Ravenworks the Pirate's Chest
Booty Hill Craft pirate Accessories
Booty Hill RedLegs Bird Rescue
Booty Hill Pirate gear
Booty Hill Blackbeard
Booty Hill Jackdawgs landing
Booty Hill Face Painter
Booty Hill Pirate toys
Booty Hill Skull Jewelry
C1 Rum cake, italian ice
C2 Crawfish Boil, Cajun
D01,2 Oysters
D03 African Cuisine
D04,5 Chustz Frog legs, Gator
D06,7 Paella, Coconut shrimp
D08 Kettle Korn
F1 Jams,Jelly
F2,3 Wood laser
F4 Bows
F5 Maple
F6 Honey
F7 Pet accessories
F8 Sewing-household
F9 Bath Body
H1 Steel drums
H2 Pink Betty bags
H3 Big Bianc
H4 Reel Fishy ApparelH5 HB Enterprises
H6,7 Harmony and Heart Designs
J1,2 Hamster wheel sno cone
J3 Lemonade
J4,5 One Stop Hats
J6 Sponsor-Orlando Health
P01 Sponsor-PRP wine
P02 Stitches and Glitches, LLC
P03 Name, sport plaques
P04 Mini donuts
P05 Hot dogs
P06,7,8 Lobsta
P09 Conch
P10 Sponsor-Bluegreen Vaca
S1 Juice
S3 Sponsor-All Am Energy
S4 Sponsor-Predators
S5 Sponsor-Vision Glass
S6 Event T shirts
S7 Popsicles
T01 Toys
T02 Color Street nails
T03 Mixed Crafts
T04 Slime station
T05 Batting Cage
T06,08 Slushies
T11 Diamond Tattoo Co.
T20 Bird Rescue