Longwood Pirate Seafood Festival FAQs
When is the 2023 the Festival ?
The event is held on the last weekend in MARCH.
The 2023 Longwood Pirate Seafood Festival is Saturday March 25 10am-6pm and Sunday March 26 10 am-5pm
Where is the Festival held?
The event is held in Reiter Park located at 311 W Warren Ave, Longwood, FL 32750
There is Free parking at Orlando Health South Seminole Hospital 555 W SR 434 and at the SunRail parking lot at 149 E. Church Ave. Longwood, FL 32750
Is there an Entrance Fee?
There is no fee to attend the event.
Do I need to buy tickets for food?
You will pay food vendors directly with cash or credit card. Cash is recommended to keep lines moving.
Sorry. Dogs are not allowed in Reiter Park.
What else is there besides food?
There will be a FREE Kid zone with bounce houses, a rock wall and even a SHARK Ride! At the back of the park you will find the authentic pirate encampment to see how pirates might have lived 100 years ago. You can also hear great music and watch live aerial entertainment all weekend with lots of room to spread out in Reiter Park.
What can the kids do and what will it cost?
The event will feature an all free kid zone that will include fun things to do like Bounce houses,  a mechanical Shark Ride and more. There will also be a pirate ship and character actors. Tips are welcome.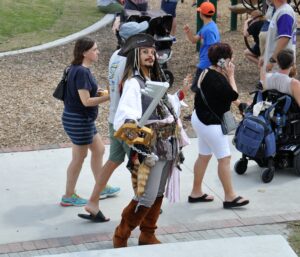 What if I don't like seafood?
No worries. there will be plenty of food for landlubbers too!
2023 Stage Entertainment line up
Saturday
10:00 AM – Black Powder Demo (open show)
10:30 AM – A-Tribe Music
11:30 AM – Rusty Cutlass Pirate Band
12:30 PM – Blackbeard's Pirate Show
1:00 PM – A-Tribe Music
2:00 PM – Rusty Cutlass Pirate Band
3:00 PM – Blackbeard's Pirate Show
4:00 PM – Predator Prowlers Dance Team
4:30 PM – Reggae Trio
Sunday
10:30 AM – A-Tribe Music
11:30 AM – Rusty Cutlass Pirate Band
12:30 PM – Blackbeard's Pirate Show
1:00 PM – A-Tribe Music
2:00 PM – Rusty Cutlass Pirate Band
3:30 PM – Christina Vukel & Band
2023 Pirate Seafood Vendors
| | | | |
| --- | --- | --- | --- |
| Last Name | First Name | Business Name | SPACE |
| Alejandro | Jenny | Gran Arepa East Central Fl. | F22 |
| Andrew-Loo | Amy | A and M Boutique | A12 |
| Badia | Veronica | V's Crystal Oasis | D11 |
| Ballen | Fredy | University of Florida TREC | T11 |
| Balseiro | Krista | ReelSkinz | H22 |
| Bowers | Emy | Zanadu Collections | A11 |
| Brunotte | Panther | Panther's Gallery | G15 |
| Byrne | Jill | The Parc Pet Suites | H14 |
| Byrnes | Anna | Ukrainian Traditional Food | F23 |
| BYRO | BRANDON | Robb N. Plunder | B16 |
| Callejas | Eileen | Helpertunity | A10 |
| Castillo | Merquiades | The Real Maine Lobster | H20 |
| Cianfaglione | Sandi | iBLING | H25 |
| Claytor | Kasey | Kasey\'s Keepskaes | B11 |
| Coker | Victoria | Cokernut Creations | B10 |
| Cole | Khadijah | Julia\\\'s Natural Shop LLC | A14 |
| Cortes | Madison | Haute Express Boutique | C21 |
| Darby | Andre | Yummy Tummies | F21 |
| Dewar | Colin | Celticness | B15 |
| Entertainment | Joe | Bug-Eyed Entertainment | S4 |
| Frandsen | Jennifer | Fairy Godmother | A15 |
| Garcia | Leah | Art Innovations LLC  | A13 |
| Gargiule | Emily | Momentum Solar | G14 |
| Gerstorff | Joshua | Custom Creations Woodworking LLC | D12 |
| Golenkova | Tatiana | WINE4OYSTERS | S3 |
| Ibbetson | Mary | Pura Vida Kettle Corn | F26 |
| Jacob | Robert | A Pirate\'s Life | PIRATE VLG |
| Johnson | Joshua | Art Afterlife Skeletons LLC | C10 |
| Johnson | Symphoni | Ultra Anime Instinctz | C11 |
| Johnson | Nicole | Bang Energy | D13 |
| kanlidere | eren | Rich gecko | H11 H12 |
| Khouvongsavanh | Saeng | The Tea Social | F20 |
| Likens | Rosemarie | Que Vida Design | C22 |
| Lowry | Justin | LeafFilter Gutter Protection | G16 |
| Lupella | James | Krystal Klear products Hats birds | A17 |
| Lyke | Brenna | Kona Ice of Central Orlando | S3 |
| Manning | Cicely | CM Originals | C14 C15 |
| Mascari | Debbie | Deltona Pops & Ice Cream | K2 |
| Matos | Roberta | Betta's Pizza LLC | G17 |
| Messer | Philip | Uncle Phil\'\'s Fudge | C13 |
| Meunier | Stacy | Happy Goat Trading Company | BOOTY HILL |
| Mummert | Chelsea | The Hooded Fox | D10 |
| Nogue | Chare | Building America LLC | H21 |
| Ortiz | David | The DR Smasher | S1 |
| Patino | Priscilla | kizmet | C23 |
| Patterson | Robert | The Honey Couple | C12 |
| Phillips | Raymond (Todd) | Sharks and Shells | B12-14 |
| Phinn | Paula | Paula's Jamaican cuisine | G19 |
| Rankin | Ken | The CannaBus LLC | C |
| Reed | Jason | Grumpy\'s Homemade | F11 |
| Reynolds | Pam | QS Designs LLC | D14 |
| Ricaurte | Carmen | One of a Kind Leather | A16 |
| Rosa | Sasha | Sasha Made It | H23 H24 |
| Ruby | Donna | Honeybee\'s Doggie Cafe | H13 |
| Schantz | Davina | Kool glow | H10 |
| Schiff | Mandi Ilene | Orlando face paint | K1 |
| Steed | Joseph | Black Brew Bros Coffee | G10 |
| Taylor | Sarah | ChrislynsHennaCreations | K3 |
| Tedford | Nicole | NT designs NT, LLC | G11 |
| VanLandingham | Wealthy | Previewed Sunglasses | C20 |
| Varela | Libny | Paellas Madrileñas | F24 F25 |
| Vargas | John | Frontline Bakery | G12 |
| Walsh | Fran | European Breads LLC | F10 |
| yazidi | Abdel | Foutaz LLC | C24 C25 |