Pirate Seafood Festival vendor set up information
Below you will find the vendor list by last name to find your space assignment and a map to track your traffic flow pattern. All vehicles will enter on W. Warren Ave. (Use GPS  370 W Warren Ave, Longwood, FL 32750 to locate the ENTRY POINT)

Your SET UP TIME window is Friday after 4pm and Sat before 9am.

The event hours are Sat March 26 10am-6pm and Sun March 27 10am-5pm.

 

If you are assigned "BOOTY HILL" then you are free to set up anywhere on the hill in the grass. 

 

You can park your vehicle across the street in the Hospital parking lot. There is a church parking lot a block away where RVs/Campers usually Pay to Park during the Nov Craft festival. They might accommodate you this weekend if you call (407) 339-6812 and ask.

 

If you still owe a balance, you must contact me with your plan to pay or your space will be released to someone on the Wait List.

 

EMAIL JANET with your approximate time to arrive so that we can be prepared for any big rushes

.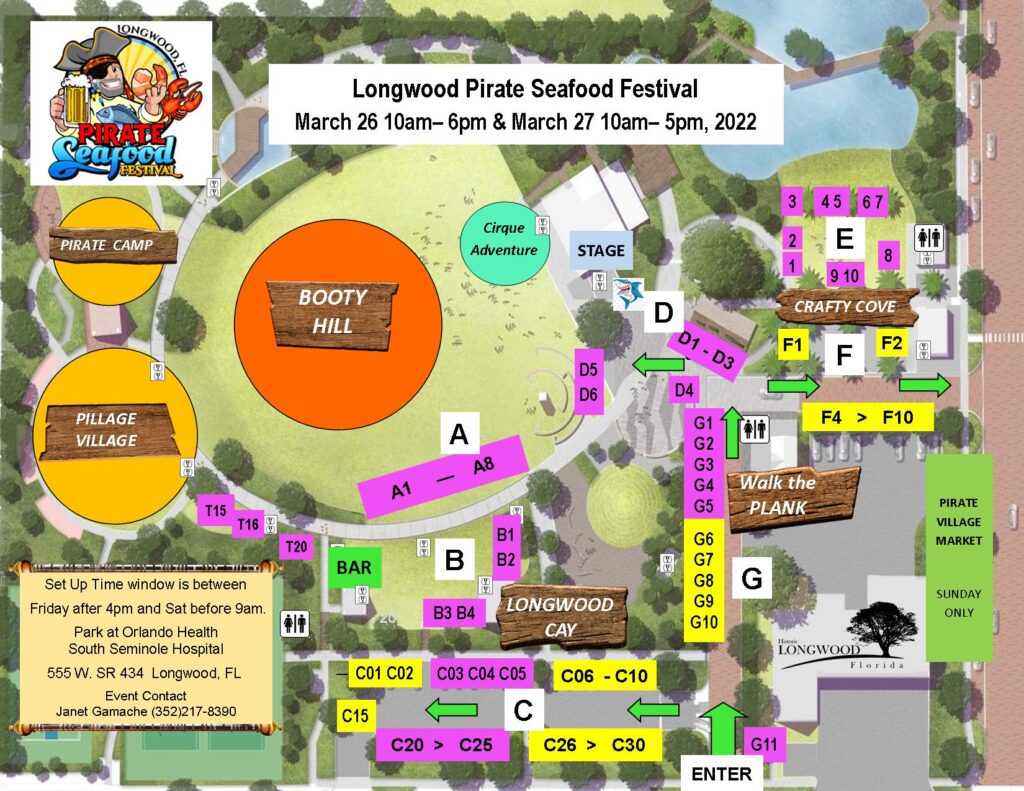 2022 Longwood Pirate Seafood Vendors by Last Name
LAST
FIRST
SPACE
CATEGORY
Albrecht
Anne
Booty Hill
Ravenworks Pirate's Chest
Alveraz
Wesley
G7
FOOD Seafood
Andrew Loo
Amy
A3
A and M Boutique
Atkins
Greg
Booty Hill
Bath and Booty
Baez
Alex
Booty Hill
Malonze Productions
Balseiro
Krista
G2
Reel Skinz
Banks
Cheryl
E6 E7
Food craft Jams, Jelly etc
Barker
Jennifer
C21
Purses
Byro
Brandon Anita
Booty Hill
Robb and Plunder
Chaney
Ashley
C24
Acces bows
Cianfaglione
Sandi
C30
Bling
Colston
David
Booty Hill
Melbourne bird sanctuary
Cornell
Jon
C03
Extreme Peelers
Desormoux
Caroline
D6
FOOD Popsicles
Dewar
Colin
Booty Hill
Celticness
Domdey
Chuck
F6
FOOD Snowie
Donoughe
Joe
D4
Hamster wheel
Dratnol
Arthur
E4
Honey
Evans
Angela
A5
Christinas Capes
Golenkovaova
Tatiana
F4
FOOD Oysters
Gurtner
Dawn
B1
Face Painter
Hoare
Trevor
C01 C02
FOOD Congo Bongo
Holmes
Sandra
A7
Crafty Freethinker
Impink
Jonathan
D5
Toys
Jackson
Alaina
G6
Sponsor-LeafFilter
Javar
Rudy
E5
Drunk Chicks Craft Sauces
Johnson
Darryl
C27
FOOD Conch
Kovanis
Andrew
G3
Dunedin Candle
LaGrone
Paul
Booty Hill
Coconut Crafts
Lescano
Enrique
Booty Hill
Mastercraft jewelry
Mattiaccio
Gerardo
C28
Perfume glasses
Messer
Philip
E10
Fudge
Oneal
Robert
G11
Photos
Ortiz
David
D1
FOOD Juice
Phillips
Raymond
Booty Hill
Sharks and Shells
Pigue
Danielle
C25
Coozies
Pitts
Katherine
A4
Shakin Stitches
Pitts
Katherine
G5
Sewing
Porter
David
G1
Sponsor-Bluegreen Vaca
Reategui
Renzo
C26
FOOD Arepas
Reed
Grumpys
C06 C07
FOOD Ice Cream
Reynolds
Tara
A6
Sponsor-Brita Pro
Reynolds
Pam
D3
Event T shirts
Rhoton
Rob
C04 C05
Hats
Rickey
Ryan
E3
Jerky
Rinaldo
Ryan
D2
City of Longwood
Rouge
Sam
F10
FOOD Café Rouge lobster
Ruby
Donna
E8
Honeybees Doggie Café
Samudio
Sixto
C23
CBD Storm LLC
Santangelo
Christopher
Booty Hill
Jackdawgs landing
Santos
Haidy
A8
Kids accessories
Schiff
Mandy
T20
Airbrush Tattoo
Schultz
Andrea
E1 E2
Gardens of Honey
Schweitzer
Elizabeth
C08 C09 C10
FOOD Mixed Seafood
Seymour
Kevin
A1 A2
Yard Art
Stern
Avril
Booty Hill
Skull Jewelry
Thain
Trinitie
G8 G9
FOOD Foodie Heads
Tranchita
Justin
G4
CBD Weedies
Vargas
John
E9
Macs in a box
Verastegui
Guillermo
T15
Ocean Nirvana
Watts
Sam
C22
Tshirts
Weaver
Chuck
C29
Licorice
Weinberger
Sheryl
B2
Fantasy Hair Tatoos
Williams
Jajuan
B3 B4
Princess Nail lounge
Willis
Robert
F2
Busker guitar
Wolfe
Adam
F7 F8 F9
FOOD Mixed Seafood
Wood
Roni
C20
Nike Walk charity
Wright Bell
Felicia
F5
FOOD Seafood Bowls
Zimmerman
Shelley
Booty Hill
Crystals stones